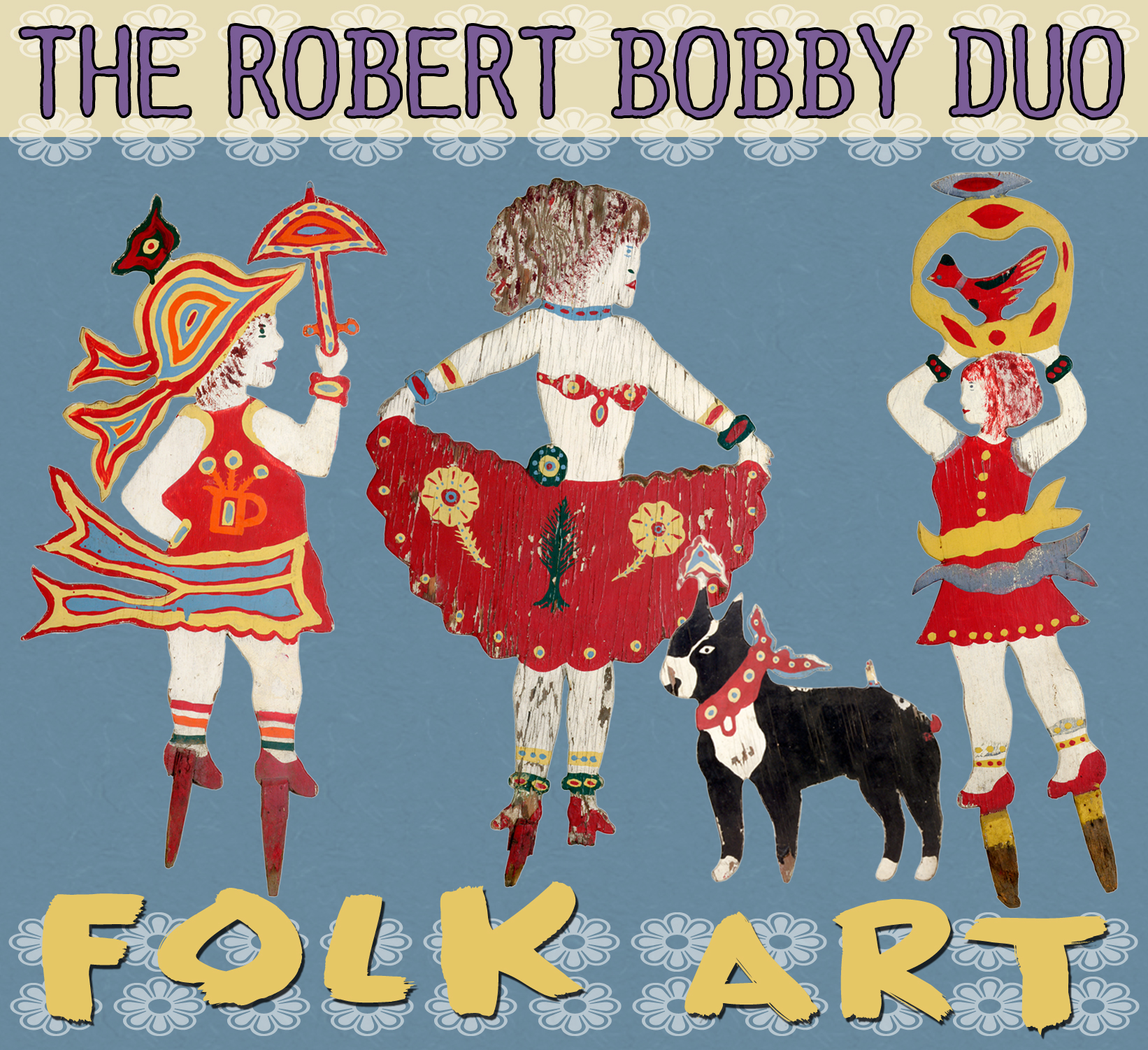 Available Now!! The new Robert Bobby Duo album. Featuring 7 Robert Bobby original songs and 4 select covers. 
Here is a link to a review in Belgium by Francois Braeken - it is in Dutch, however.
http://www.bealestreet.be/index.php/the-robert-bobby-duo-folk-art

Here is another review from rootstime.be that Freddy Celis wrote:
The Robert Bobby Duo are the American singer-songwriter Robert Bobby and his beloved spouse Mrs. Bobby, as she lets herself be called. Since 2000, the couple from Philadelphia offers live acoustic performances, in which Robert accompanies himself on acoustic guitar and Mrs. Bobby handles bass guitar. Folksongs and Americana-songs, which almost all were written by Robert Bobby himself in a previous life with the rock and R&B band "The Sppedboys", comprise the largest part of their repertoire during their performance, which often result in a crazy evening with lots of song and humor. 
On the CD "Folk Art" the Robert Bobby Duo included eleven songs. For seven of these Robert Bobby provided text and music. Of his own songs, we especially remember "God Couldn't Wait," with very sophisticated pedal steelwork by Ray Eicher, "Ted Williams," bluesssongs "Mason Dixon Line" and "Fine as Wine" and country-tearjerkers "My Baby Loves Her Man" and "Whatever I Fell for You." The other four tracks are covers that have been personalized by the duo. Thus they offer the song "Blue Chevrolet" by "The Beat Farmers" from their album "Loud and Plowed and . . . Live!" from 1990, and "Too Much Time" from the "Clear Spot" album from 1972 by Don Van Vliet, a.k.a. Captain Beefheart, also recieves a refreshingly new treatment. But according to us the most beautiful covers are "Them Dance Hall Girls" by Allen Debolt from their album "Fraser & Debolt" that appeared on the record market in 1971, as well as the track "I Wish It Would Rain" from the album "The Temptations Wish It Would Rain" that was produced in 1968 by the legendary Motown soulformation by the same name. Incidentally, the Robert Bobby Duo produces these covers with a lot of love and respect for the original versions. In the professional press this duo is sometimes compared to Fred Eaglesmith, John Hiatt and John Prine. Robert Bobby also makes this comparison on the cover of the CD, but takes care to add the following quip: "Robert Bobby: like John Prine, only cheaper." The eleven tracks on "Folk Art" by this not so young anymore couple of American folkmusicians from Philadelphia is an absolute joy!
and another European Review from: www.ctrlaltcountry.be      Benny Metten
During one of my many ramblings through the worldwide web earlier, I hit by happenstance on "Folk Art," the new release by the Robert Bobby Duo. And that immediately made me remember, how good I have always thought this man. When he presents himself as "Like John Prine only cheaper!" not a word of it is a lie. After all, Just like Prine, Bobby knows his way with words. Actually, just like our favorite wordsmith, he also knows how to effortlessly build a bridge between a laugh and a tear. Something that, in our opinion, in the borderlands between folk, Americana, and Blues is certainly not a disadvantage. Assisted by his wife, the enigmatic Mrs. Bobby, on bass, and a handful of others on among others various guitars, banjo, dobro, and pedal steel, Robert Bobby wades through eleven tracks on "Folk Art." Seven of his own songs, and a number of covers of "I Wish It Would Rain" of soul's greats The Temptations, "Blue Chevrolet" from the Beat Farmers, "Too Much Time" from Captain Beefheart & The Magic Band, and "Dance Hall Girls," previously only known in a version by Fraser & DeBolt--all brought to taste with a strong whiff of folk. 
  
And right from the first track "Constantly Tweaking," you know immediately that also in 2016, with Robert Bobby you can enjoy a fine round of musical entertainment, like of old. The way he, with his tongue deeply planted in his cheek, critically represents how a baby puts into words his first impressions of the world around him, immediately guaranteed a broad smile. One of the many highlights on the acoustic pearl that Folk Art undoubtedly is. "God Couldn't Wait," "Ted Williams," "Mason Dixon Line," "My Baby Loves Her Man," "Fine as Wine," "Whatever I Fell for You," you just say it . . .  In vain, you will search for even one lesser moment, even with a very strong magnifying glass.  
 
_