THE ELECTRIC YEARS
1981  It all started with The Speed Boys album THAT'S WHAT I LIKE on I Like Mike Records.  I Like Mike was our own label that we named after our sound man at the time, Mike Holiday.  For less than $2000 we signed up for a package deal that included 16 hours of studio time with David Kalmbach at Atlantic Sound Studios in Marietta, PA. This was a 24 track studio recording to 2 inch tape in a converted theater & we recorded the album from the stage.The basic tracks were laid down live and we overdubbed vocals, leads & the horn section ( The Speedajuana Brass -consisting of John Bowman & Dave Kauffman on saxes & our own Bobby Lowry on trombone which was recruited just for the recording). The end product was a very live sounding album. The whole thing worked because we were a gigging bar band and we had been playing these songs live for a couple of years. The package included one thousand albums pressed and we were in business. We sold them locally at gigs & had one or two distributers that made our album available for sale. We sent the albums off to various music critics and generated a few positive critical reviews, the biggest being an A minus rated review from Robert Christgau at The Village Voice. We sold out the first pressing & never ordered any more.
That's What I Like [I Like Mike, 1982]  
Harking back to a time when pop and boogie weren't mutually exclusive, Robert Bobby recalls such unlikely influences as Dino Valenti, Roy A. Loney, Marty Balin, and George Gerdes on tunes that are neither speedy nor boyish enough for '80s cool. Cheerfully regressive in more ways than one, his gift for the pungent phrase is inspired mostly by the Colorado resident celebrated mostly by the Colorado resident celebrated in "Little Bit Nasty, Little Bit Nice." "My baby's mean as she can be/But she's only mean to me," he exults; "I knew something was cooking/When you took your matte knife to my back," he realizes; "Come on home and/Treat me wrong again," he pleads. Guitarist Bobby Blue Blake adds off-color chords. A-
1983  The 2nd Speedboys album LOOK WHAT LOVE'S DONE TO ME NOW was recorded and released in 1983, and by then we had consolidated Speedboys from 2 words into one word.  This album was recorded at Baldwin Studios near Harrisburg, PA.  This was the same Speedboys as the first album and we took longer recording this one.  Like the first album, we brought in horns for a couple of tunes on this one. The Speedboys band was a 6 piece band consisting of a singer, 2 guitars, bass, drums & keyboard player. We did not have a horn section.  We brought in a few friends to help out with backgrounds, hired a congo player for the title cut and had our buddy Sam Lugar of The Sharks play distorto rhythm guitar on Hearts Like Atom's Split. Once again we had 1000 albums pressed (mastered by Greg Calbi) and sent them out to critics.  Once again Robert Christgau (below) gave us a good review in The Village Voice and our big news was getting a review in Rolling Stone.  We also got an amazing review from Mikal Gilmore at The Los Angeles Herald Examiner which covered both Speedboys albums.   We had a loyal following in the Lancaster, PA area but ultimately never were able to make the jump to the next level.  In the end, we disbanded in 1985 and have reunited a handful of times since then. 
Look What Love's Done to Me Now [I Like Mike, 1983]
I don't often wonder what the world is coming to because someone can't get a record contract--after all, life is unfair--but here I'm tempted. A sharp, witty bar-band-blues LP like the first is one thing, but the mid-tempo stuff on this entry could fit in right next to Tom Petty and Bob Seger if only some hotshot producer would oil Robert Bobby's voice up a little. That's no advantage as far as I'm concerned, but uncommercial it ain't. What could be the problem? Surely not the antinuke overtones of "Hearts Like Atoms Split." Maybe somebody noticed the chorus of "Anna": "Anna, anabolic steroid/Oh Anna, you made a man outta me." B+
"The Speedboys are a fresh, funny American Band..." Rolling Stone magazine -( 3 star review of Look What Love's Done to me Now)   
1987  The album CHILLY WIND by Robert Bobby was released.  This was recorded with a bunch of different musicians with the exception that Bobby Lowry remained on keyboards.  Mike Holiday played drums, Nick Madolloni played guitar & Rick Moser played bass with Robert Bobby on rhythm guitar & vocals.  This album was basically what my contribution song wise would have been to the next Speedboys album, had we stayed together.  It was recorded by Doug Phillips in Akron, PA.
Whatever he's like in person, on record Robert Bobby is the vivid and varied songwriter fans should be waiting to meet.  Milo Miles-Boston Phoenix (review of Chilly Wind)
1989  The album POSITIVELY JAMES STREET came out as a Speedboys album.  This version of The Speedboys did not include either of the original guitar players.  Instead, it featured Marshall Jones on guitar & added Larry Green on Saxophone.  Regrettably, we released this on vinyl right when CDs were just coming into vogue.  Regrettably, because unsold CDs would take up a lot less space in my basement than the albums do.  We got a nice review from Tom Moon at the Philadelphia Inquirer but ultimately, this was, in my opinion, an under appreciated album.
Note: I have combined Positively James Street and Chilly Wind into one digital offering called "POSITIVELY CHILLY", available on i-tunes etc.
2004  MISTER JOE by The Robert Bobby Quartet was released on CD.  It was recorded sometime in the 1990's recorded at The Chameleon Club in Lancaster, PA live to 2 track DAT.  Rich Ruoff allowed us to go into his club one afternoon & set up on stage & record. It was recorded by Ken Heitmuller with no overdubs.  This band consisted of Robert Bobby guitar & vocals, Marshall Jones on lead guitar, John Schatt on bass & David Galligan on drums.  The band broke up shortly after recording this music (we knew we were breaking up and had wanted to get a recording of the band prior to Marshall Jones relocating to Florida)  I had always liked the way this turned out so I had CDs made in 2004.  
THE FOLKY YEARS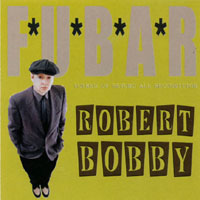 2001  F*U*B*A*R is a mixed bag sonically, ranging from solo guitar  & voice offerings (9 Votes Counted) to full out folk rock (Bigger Guns) with stops in between.  The recordings range from home recordings to more produced studio tracks. Chad Kinsey, ubiquitous Lancaster guitar player, performs & produces 5 tracks. Jeff Coleman produced, recorded & played most of the tracks on King of Love. 
1     Best of All Possible Worlds
2     Lucinda Williams
3     Rain Ain't Fallin'
4     Guns Across the U.S.A.
5     In My Own Selfish Way
6     I Wish I Had a Better World
7     9 Votes Counted
8     AC-DC Rag
9     Oh Sweet Jesus
10    King of Love
11    Bigger Guns
12    Christmas Puppies (hidden track) 
"An exciting and highly recommended new album from a veteran musician I had not previously heard of. Interesting and unusual topics, handled with insight, subtlety, humor, and great musicianship and a fine voice largely rooted in the folk and blues traditions"John Weingart, Music You Can't Hear On The Radio WPRB, Princeton, New Jersey (review of F*U*B*A*R)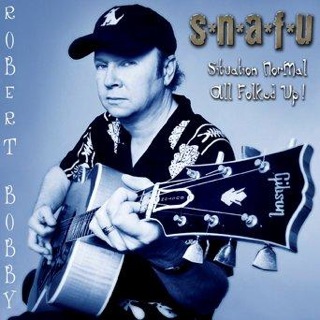 2004  S*N*A*F*U is a more acoustic CD that was recorded at Jeff Coleman's Steam Powered Studio in Lancaster, PA. The recording features the dobro playing of Bill Nork on a number of the tunes, and it was thru this recording that my musical relationship with Bill Nork began.  He has been a featured member of The Robert Bobby Trio since these sessions. I included the song Jaime Lee from my Chilly Wind album to round out this CD.
Naked On The Internet
Anna
It's Not The Heat
They Couldn't Say It....If It Wasn't True
Juicin'
Ever Eat Meat Again
River
Thanks I Get
Xmas Puppies
Jaime Lee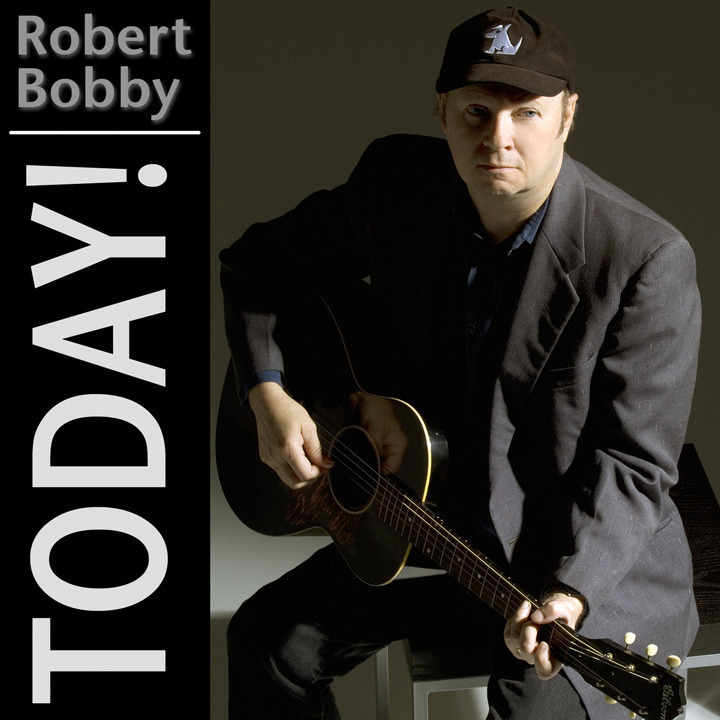 2006 TODAY! More Robert Bobby acoustic recorded at a number of different studios in Lancaster & surrounds.
Most of the tunes feature Robert Bobby on vocals & guitar with Bill Nork on a variety of instruments including dobro, mandolin & guitar. Several songs include Jeff Geib on banjo. Bass duties went to Mike Bitts, Bill Nork & Mrs. Bobby.
Older Than Old & In the Way
Feel So Blue
Sweet Potato Vine
Secret of the Heart
Hearts & Diamonds
Ask a Man Who Owns One
Spend a Little Nighttime
Dance
Stop in the Name of Love
Love Drunk
Little Bit Nasty
Copper Kettle
Older Than Old - Banjo Reprise
"Today" is an impressive modern folk CD by veteran artist Robert Bobby. The strength of the CD lies in the witty and romantic songwriting, combined with the natural sound of the acoustic instrumentation and Robert's gritty and effective vocals. This is storytelling and visual songwriting from the heart. The acoustic stringed instrument performances on the CD are notable, with many different sounds that are nicely blended to provide the proper accent to Robert's voice. "Sweet Potato Vine" is a memorable song with the authentic modern folk sound and tasteful guitar fills that is typical of this CD. "Dance" is one of our favorite tracks with its upbeat groove, yet unplugged acoustic feel. "Stop In The Name of Love" is a stripped-down, slowed-down version of this American music classic that we find ourselves listening to again and again. If you enjoy modern folk artists such as John Prine, you will enjoy this CD. Pick up a copy today!
 - Review by RadioIndy staff
2008 MEET ROBERT BOBBY was released.  My friend, Jefferson Pepper, suggested on the way home from NERFA Northeast Regional Folk Alliance) in 2007 that I put out a CD that had a sampling of songs from my other 3 folky CDs, and that was the origin of MEET ROBERT BOBBY. I told Jefferson to run with the idea & make up a list of songs he would include. The finished product is mostly his list of songs with a tweak here & there from me.  The CD contains 17 tracks with one previously unreleased track, the ever popular ode to Barry Bonds, When Barry Met Anna.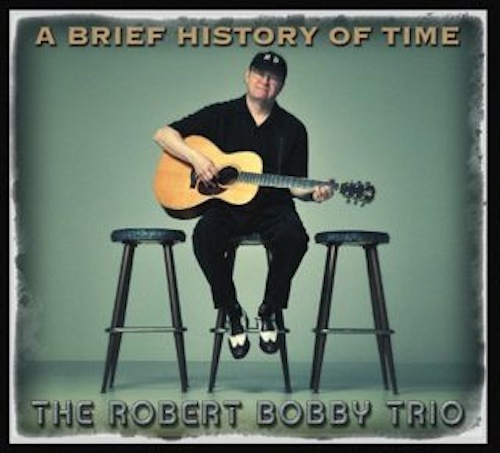 2011 A BRIEF HISTORY OF TIME  is the title of the new CD by THE ROBERT BOBBY TRIO.  A Brief History of Time captures the essence of what makes The Robert Bobby Trio special. This collection of eleven songs was recorded live in the studio over two sessions to capture the energy & spirit of a typical RB3 performance....not that there is anything typical about seeing The Robert Bobby Trio. The Robert Bobby Trio is Robert Bobby on guitar & vocals, Mrs. Bobby on bass, & Bill Nork on dobro, mandolin and a little guitjo. The eleven songs on A Brief History of Time include six Robert Bobby originals, four classic cover songs that he has been performing throughout his career and a special one of a kind cover of Mitch Rosenberg's My Baby's Back. Mitch wrote this song when he was in high school back in the late 60's and Robert Bobby is thrilled to be the first to perform My Baby's Back on this cd.
Since it's release to folk dj's in early July, 2011, songs from A Brief History of Time have been played on almost 50 stations from California to the New York Island & from Baton Rouge to Canada, Germany, New Zealand & Austrailia. We are truly appreciative of the airplay we have received. A Brief History of Time was the 23rd most played song on the Folk DJ chart for August, 2011.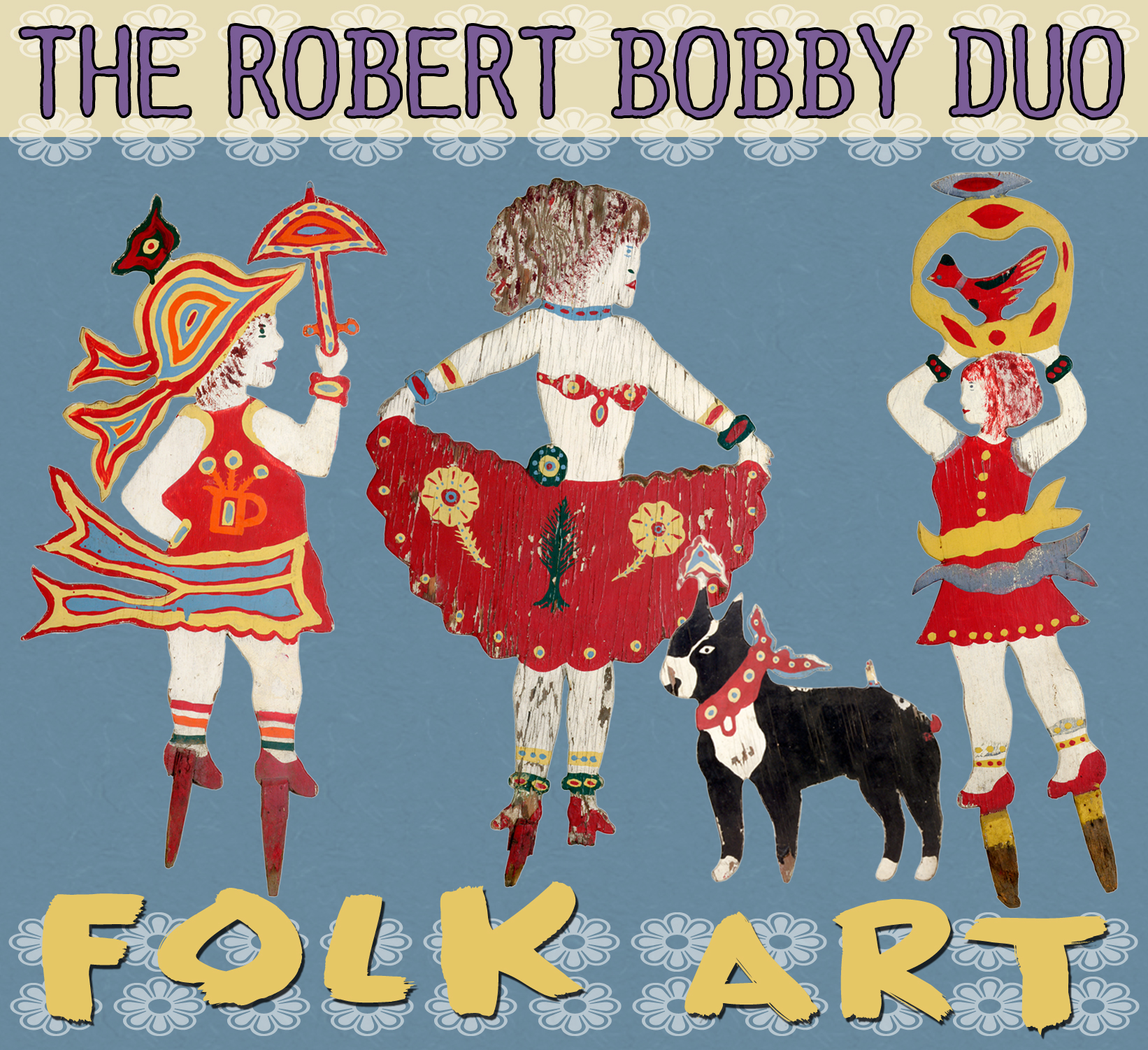 DATELINE:DECEMBER 2015: THE NEW "FOLK ART" CD IS AVAILABLE NOW!
Mr & Mrs Bobby announce the arrival of their newest creation - FOLK ART. The CD weighed less than a pound, but is full of life, energy and surprises.

Vital statistics:  11 songs consisting of 7 Robert Bobby originals and 4 select cover songs originally performed by The Temptations, Fraser & DeBolt, The Beat Farmers and Captain Beefheart. 

The Robert Robby Duo is Robert Bobby on acoustic guitar and vocals and Mrs. Bobby on bass. They were assisted by some fine musicians including Oliver Craven (Stray Birds), Ray Eicher, Mark Rast (Vinegar Creek Constituency) and Angelo M. 

Start with an eclectic mix of songs, add in some inspired playing and you have an acoustic listening experience we call FOLK ART.